Farm lives from 1792 through 1843 Houwe Jans Reininga, son of Jan Caspers. In 1802 is Houwe Jans become owner for ƒ11,673.00. His daughter Trijntje Houwes takes over the farm from 1843 to 1866 with her husband Jan Jans Einjes, widower of her sister Elizabeth Houwes. This farm still exists.
(Source: farms and their residents)
Farm in "de Bult". A hamlet between Oude Schans and Bellingwolde. Was in the possession of Jan Houwes Reininga, (son of Houwe Jans), and his wife Grietje Addes de Boer. Both his single sons, Pieter and Ailko took over the farm. Grietje Addes de Boer must have been an active woman, because on her tombstone he had chiselled: Working was her lust and life, again her hope.
(Tombstone found in Bellingwolde)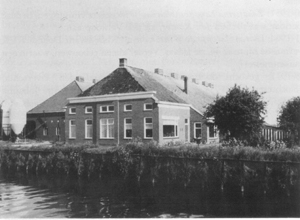 As of Petri 1748, Jan Caspers bought this farm from councilor L. Emmen. His son, Kasper Jans, took over the farm in 1789, and married in 1796 at the age of 48 with Trijntje Tjarks Heeres, aged 26. When Kasper Jans dies in 1809, his widow marries Jan Stoffers Froon who continues the farm.
This Farm "t Wad", inhabited by Jan Caspers from 1789 to 1812. According to the seal in Scheemda 8-1-1789, the heirs sold the Muinck for 294 guilders to Jan Caspers. "The meier will be obliged to use the land according to land law and to dig a well of peat annually, not wider than 13 feet and to properly dig out the dug out and to build according to the proportion of the rye. His brother Ties who lives there then agrees to the transfer.
This farm still exists.rm no longer exists.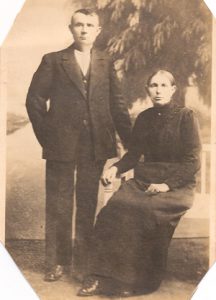 Kasper Reininga, born on September 28, 1874 in Winschoten. Youngest son of Reinder Reininga and Anje van Zweden. Married on January 5, 1893 in Winschoten to Anna Maria Sikkema. At the wedding were as guardian: Gerben Slof and as watchful guardian: Jan de Jonge. Kasper was the chief. He died on February 21, 1951 in Winschoten.
(Thanks to his grandson Kasper Reininga)
Anna Maria Sikkema. Born on February 18, 1802 in Oude Pekela. Daughter of Harmina Sikkema. Father is not mentioned. At marriage the guardian was: IJme Sikkema. In the photo with her twin daughters Anna Maria and Engeltje. Anna Maria died on October 8, 1932 in Winschoten.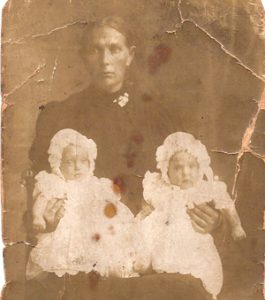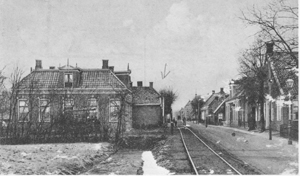 Beerta. A small village between Winschoten and Nieuwe Schans. 8 km from the German border. A small community of approximately 1500 inhabitants. Must have existed in the 15th century. The church in Beerta was built in 1506 and consists of cloisters of the monastery in Ulsda. Casper Jans and Elle Jans married in this church on May 2, 1717. The ancestor and mother of the Reininga family. Beerta used to be on the Dollard.
t that time, the village of Beerta owned three mills. One was from Jan Jans Einjes. Buckwheat miller and married to Elizabeth Houwes Reininga. There was also a brewery in the village and there must have been a small castle. After Elizabeth died, he married her sister Trijntje Houwes Reininga in 1843 and went to live on her father's farm.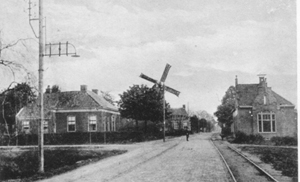 In 1811 everyone had to adopt a surname. For that they used a patronym (A patronym is a name derived from the name of the father. So if a child named Harm has a father named Jan, it was often called Harm Jans. The addition Jans is the patronym. So So we come to Kasper Jans and Jan Kaspers, or Houwe Jans his daughter was then called Elizabeth Houwes.
Birth certificate of Kasper the ancestor of the Reininga family. The deed states that he was actually born in Finsterwolde. But his mother had him baptized on December 14, 1677 in Beerta. The father was unknown. Isn't that why the priest wanted to baptize him in Finsterwolde? Or was she ashamed and that is why she went to Beerta?
Harm Reininga. Born on February 7, 1857 in Westerlee. Son of Geert Jans Reininga and Siementje Raven (s) burg. Married on May 22, 1854 in Scheemda to Grietje Zuurke. Gretel died in 1906 and Harm married again in 1913 to Hilke Bettenbroek. Harm died on September 7, 1932 in Westerlee and was buried with his first wife.
(Tombstone found in Westerlee).
Epko Reininga. Youngest son of Harm Reininga and Grietje Zuurke. Born on September 5, 1905 in Heiligerlee.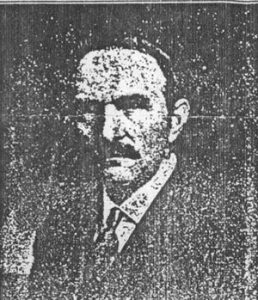 Herman (Harm) Reininga, born 10-08-1861 in Stadskanaal, son of Hindrik Reininga and Grietje Rosenboom. Like his father, he was a carpenter, but he wanted more. Emigrated to America in 1882 and built an empire there. As a news paper: The Oak Parker of April 26, 1919 described: many of his striking buildings were made by him. In 1911 he visited the Netherlands again, probably because his father was ill. (He died on 24-08-1911) Herman returned to Ellis Island on 19-06-1911 with the ss. Rotterdam.
Herman is the founder of the American branch Reininga in America.
The ss "Amsterdam". With this ship Jan Reininga, born March 21, 1878 in Nieuweschans, and his family, Jacoba Rand and their four children, arrived on March 27, 1912 at Ellis Island in America to settle here and build a new life. Two more children were born in America, Alice Reininga and Herman Reininga.
The American Perry Foster Reininga (Pete) proudly points to the nameplate Reininga. Together with his wife Betty Ann, his sister Alice Ann and brother-in-law John Herman, he was looking for his roots in East Groningen. He had finally found one in May 1984. From left to right Pete, his sister Alice Ann, behind my youngest daughter Paula, my wife Jantje Weber and myself.
All 38 years younger in 2022.